La marihuana y sus derivados en el manejo del dolor crónico
Palabras clave:
Dolor crónico, marihuana, fitocannabinoides, Cannabis sativa
Resumen
Durante miles de años, la marihuana (Cannabis sativa) se ha utilizado como medicina y con fines recreativos y espirituales. Los fitocannabinoides son una familia de compuestos biológicamente activos que se encuentran en la planta de Cannabis, que es conocida por sus efectos psicotrópicos y eufóricos. Entre los usos medicinales que se atribuyen a esta planta, y de los cuales ya existe evidencia preclínica y clínica, destaca el tratamiento del dolor crónico. El dolor es un proceso complejo modulado por muchos factores, lo que dificulta el desarrollo de blancos terapéuticos simples. Debido a la falta de eficacia y a los efectos secundarios de algunos de los fármacos utilizados actualmente para tratar el dolor crónico, la investigación científica y médica ha enfocado la mirada en una alternativa potencial: la marihuana.
Citas
Baron R, Binder A, Wasner G. (2010). Neuropathic pain: diagnosis, pathophysiological mechanisms, and treatment. The Lancet. Neurology, 9: 807 – 819.
Berger JV, Knaepen L, Janssen SP. (2011). Cellular and molecular insights into neuropathy-induced pain hypersensitivity for mechanism-based treatment approaches. Brain research reviews, 67: 282 – 310.
Breijyeh Z, Jubeh B, Bufo SA, Karaman R, Scrano L. (2021). Cannabis: A Toxin-Producing Plant with Potential Therapeutic Uses. Toxins, 13: 117.
Campbell G, Hall WD, Peacock A, Lintzeris N, Bruno R, Larance B, Nielsen S, Cohen M, Chan G, Mattick RP. (2018). Effect of cannabis use in people with chronic non-cancer pain prescribed opioids: Findings from a 4-year prospective cohort study. Lancet Public Health, 3: 341– 350.
Carrasco C, Naziroglu M, Rodríguez AB, Pariente JA. (2018). Neuropathic pain: delving into the oxidative origin and the possible implication of transient receptor potential channels. Frontiers in Physiology, 9: 95.
Crofford L. J. (2015). Chronic Pain: Where the Body Meets the Brain. Transactions of the American Clinical and Climatological Association, 126: 167–183.
ElSohly MA, Radwan MM, Gul W, Chandra S, Galal A. (2017). Phytochemistry of Cannabis sativa L. Progress in the Chemistry of Organic Natural Products 103, 1–36.
Geneen LJ, Moore RA, Clarke C, Martin D, Colvin LA, Smith BH. (2017). Physical activity and exercise for chronic pain in adults: an overview of Cochrane Reviews. The Cochrane database of systematic reviews 14, CD011279.
Gonçalves ECD, Baldasso GM, Bicca MA, Paes RS, Capasso R, Dutra RC. (2020) Terpenoids, Cannabimimetic Ligands, beyond the Cannabis Plant. Molecules, 7: 1567.
Hsieh GC, Pai M, Chandran P. (2011). Central and peripheral sites of action for CB2 receptor mediated analgesic activity in chronic inflammatory and neuropathic pain models in rats. British Journal of Pharmacology, 162: 428 – 440.
Ji G, Neugebauer V. (2012). CB1 augments mGluR5 function in medial prefrontal cortical neurons to inhibit amygdala hyperactivity in an arthritis pain model. European Journal of Neuroscience, 1: 233 – 245.
Mücke M, Phillips T, Radbruch L, Petzke F, Häuser W. (2018). Cannabis-based medicines for chronic neuropathic pain in adults. The Cochrane database of systematic reviews, 3: 1 – 93.
Silver RJ. (2019). The endocannabinoid system of animals. Animals, 9: 686.
Starowicz K, Finn DP. (2017). Cannabinoids and pain: sites and mechanisms of action. Advances in Pharmacology, 80: 437 – 475.
?wieboda P, Filip R, Prystupa A. (2013). Assessment of pain: types, mechanism and treatment. Annals of Agricultural and Environmental Medicine, 1: 2 – 7.
Szabó GG, Lenkey N, Holderith N, Andrási T, Nusser Z, Hájos N. (2014). Presynaptic calcium channel inhibition underlies CB1 cannabinoid receptor-mediated suppression of GABA release. Journal of Neuroscience, 34: 7958 – 7963.
Vu?kovi? S, Srebro D, Vujovi? KS, Vu?eti? ?, Prostran M. (2018). Cannabinoids and Pain: New Insights From Old Molecules. Frontiers in pharmacology, 9: 1259.
Yang, Y., Vyawahare, R., Lewis-Bakker, M., Clarke, H. A., Wong, A., & Kotra, L. P. (2020). Bioactive Chemical Composition of Cannabis Extracts and Cannabinoid Receptors. Molecules, 25: 3466.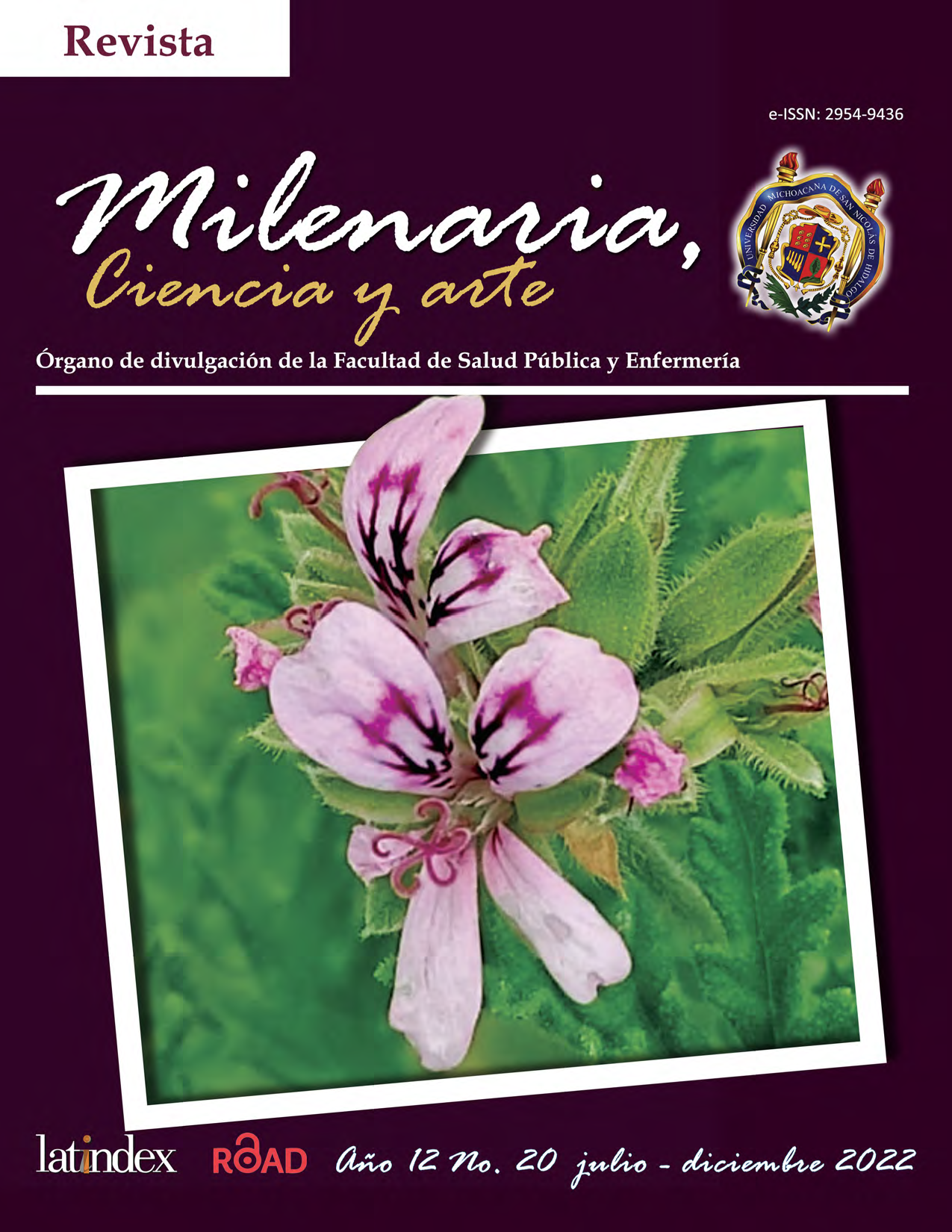 Descargas
Cómo citar
Granados-Soto, V., & Islas-Espinoza, A. M. (2022). La marihuana y sus derivados en el manejo del dolor crónico. Milenaria, Ciencia Y Arte, (20), 10–11. Recuperado a partir de http://www.milenaria.umich.mx/ojs/index.php/milenaria/article/view/286
Licencia
Derechos de autor 2022 Milenaria, Ciencia y arte
Esta obra está bajo una licencia internacional Creative Commons Atribución-NoComercial-CompartirIgual 4.0.